Teenage ******** Party From Russia vol.02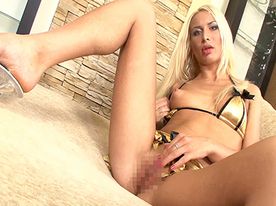 Number of Views

716

Rating

No rating yet.

Sale Day

2014/12/15

Seller

Play Time

26:43
Product Description
レーベル:Evil Playgrounds
タイトル:Teenage ******** Party From Russia vol.02

再生時間26:43

内容:ブロンドロシア人美女と3pセックス

コメント
ブロンドのロシア人が登場し男2人とセックス。
美女は2人の男にフェラを行い、バックからハメられながらもフェラを与え続ける美女、最後にはアナルセックスと2人の男優たちが美女の口にどっぷり発射。

本作品は
Sunset Media Europe B.V.より日本初公開の独占配信作品になります。

作品に関する著作権はSunset Media Europe B.V.に帰属しておりますので一切の2次仕様及び再販売
UPロードサイトへの投稿等を禁止しております
万が一発覚された場合は著作権侵害にあたり
各国の代理人弁護士を通して法的訴える事になります。

***********************

Label : Evil Playgrounds
Title :

Content: Stunning blond haves sex with two guys

Comment
A stunning blond Russian appears and has a threesome with 2 guys. She takes it up the ass while giving head, escalating into anal and taking a mouth full of cum.

This work by Sunset Media Europe B.V.is a Japan premiere exclusive content.

All copyright of the film belongs to Sunset Media Europe B.V.
It is strictly prohibited to utilize this material for resale uploading sites and the likes by all means. In the event in which any unauthorized use of this content has been discovered, legal action shall be conducted due to copyright infringement.
This Seller's Popular Products