おへそ腸責めオナニー、Navel Masturbation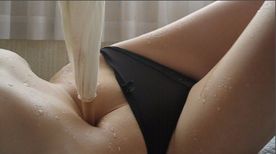 Number of Views

593

Rating

No rating yet.

Sale Day

2019/02/23

Seller

Play Time

09:38
Product Description
おへそオナニです。
女の子が傘の先を使っておへそのオナニーをする様子です。
傘の先がおへその奥深くまで届いて女の子は徐々に興奮していきます。
お腹フェチやおへそフェチのあなたにお勧めします。
おへその奥の内臓の様子が見えるように分かります。

動画時間:9分38秒

出演者は18歳以上で、公開の許可済みです。

It is a navel masturbation.
It seems that girls masturbate navel using the tip of an umbrella.
The tip of the umbrella reaches deep inside the navel and the girls gradually get excited.
I recommend it to you of stomach fetish and fetish fetish.
You can see the state of the internal organs behind the navel.

Video time: 9 minutes 38 seconds

The cast is 18 years old and over, and it is permitted to publish.
This Seller's Popular Products