内臓大移動のエロス、Eros of intestine movement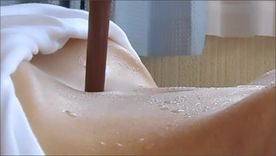 Number of Views

463

Rating

No rating yet.

Sale Day

2019/02/26

Seller

Play Time

10:42
Product Description
お腹フェチの女の子が力の抜けたお腹の内臓を刺激し
大移動させて強烈に興奮する様子です。
彼女の腹部のぎっしり詰まった内臓はバットや傘で
圧迫されたり、ひねられたりしますが、そのたびに
女の子は快感で声を上げ最後は快感のあまり頂点に達してしまいます。
お腹の中の内臓の様子がまるで見えるようです。

時間:10:42

出演者は18歳以上で、公開は許可済みです。

A girl with an abdominal fetish stimulates the internal organs of his stomach
It seems to get excited a lot by moving it.
The tightly packed internal organs of her abdomen are bat and umbrella
It is squeezed or twisted, but each time
Girls raise their voices with pleasure, and at the end the pleasure reaches the peaks too much.
It seems like the appearance of the internal organs in the belly is visible.

Time: 10: 42

Cast performers are 18 years old and over, and disclosure is permitted.
This Seller's Popular Products