腹踏みのエロス2、内臓の感触,The feeling of her internal organs.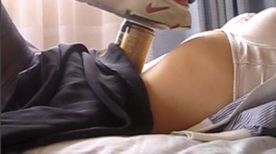 Number of Views

865

Rating

No rating yet.

Sale Day

2019/03/11

Seller

Play Time

10:56
Product Description
お腹踏みが大好きなファンには絶体に見逃せない動画です。
お腹フェチの彼女がお腹を踏まれながらオルガズムを迎える
興奮の動画です。
お腹の中からは内臓の音が響き彼女の声は最高にエロチシズムを
感じさせられます。
お腹の内臓の音は出演者の実際の音が使われています。
あなたはどこまで我慢して見ることが出来ますか?
お見逃しなく!

動画時間 10:56

出演者は18歳以上で公開の許可済みです。

It is a movie that can not be overlooked absolutely for fans who love stomp stepping.
Her belly fetish greets orgasm as she steps on her stomach
It is a video of excitement.
The sound of the internal organs echoes from the stomach and her voice makes the best eroticism
I feel made.
The sound of the internal organs of the stomach is used by the actual sound of the performer.
How far can you see and see?
Do not miss it!

Video time 10: 56

Cast performers are over 18 years old and allowed to publish.
This Seller's Popular Products