STUNNING RUSSIAN TEEN GINA GERSON CHEATS ON BOYFRIEND IN HOT CAR FUCK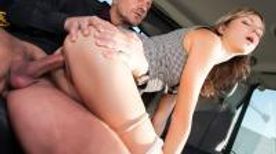 Number of Views

2196

Rating

No rating yet.

Sale Day

2019/04/19

Seller

Play Time

25:39
Purchase Here
Limited Supply. 92 Left.
Price:780pt
Put in Cart
Product Description

Roaming on the streets of the Czech Republic,
this naughty chauffeur is determined to charm every hot babe who gets into his car.

These lusty, beautiful chicks will be more than thrilled to try out the excitement of public sex,
spending their travelling time fucking in the backseat!

Take a ride in the front row seat with these gorgeous Czech ladies
getting wild and enjoying real, hardcore banging sessions in traffic.

=====

Today's customer (target) is a beautiful Russian blondie like a model (* ω ω ノ)
After having sent her boyfriend by taxi and getting on the taxi as it is,
the Russian girl starts to seduce the driver!




She is moaning wildly as she gets banged hard, then covered in cum.




Seductive babe Gina Gerson is a naughty slut who cheats on her boyfriend with Taxi driver...





*…*…*…*…*…*…*…*…*…*…*…*…*…*…*…*…*…*

LETSDOEIT has other series available on FC2 Video (streaming version) and FC2 Content Market (downloading version)!
We are planning to upload new video one veideo after another, so don't miss it (* '▽')!












Purchase Here
Limited Supply. 92 Left.
Price:780pt
Put in Cart
This Seller's Popular Products