へそ責め&腹パンチ&腹締め内臓のエロス、Navel Blame & Belly Punch & Belly tightening.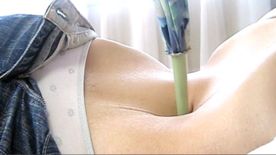 Number of Views

912

Rating

No rating yet.

Sale Day

2019/04/28

Seller

Play Time

11:52
Product Description
彼女のおへそを深く突いたり、お腹の色んな場所をパンチしたり、
ウエストを皮ベルトで締め下腹がパンパンになった処を傘の先で突いたり、
脚でお腹を踏みつけたり、骨盤内蔵の中を傘やバットで深く差し込んで
責めます。ですが、彼女に取ってどんなお腹を責めも快感でしかありません。


動画の長さ:11:52

出演者は18歳以上で公開の許可済みです。

Peep her navel deep, punch out various places in the stomach,
Peel up the waist with a leather belt and plunge with the tip of an umbrella where the lower belly has turned to
Step on your stomach with your legs, or use your umbrella or bat to insert deeply into the pelvis.
I'll blame you. But it is only pleasure to blame her for any stomach.


Movie length: 11: 52

Performers are 18 years of age or older and allowed to publish.
This Seller's Popular Products